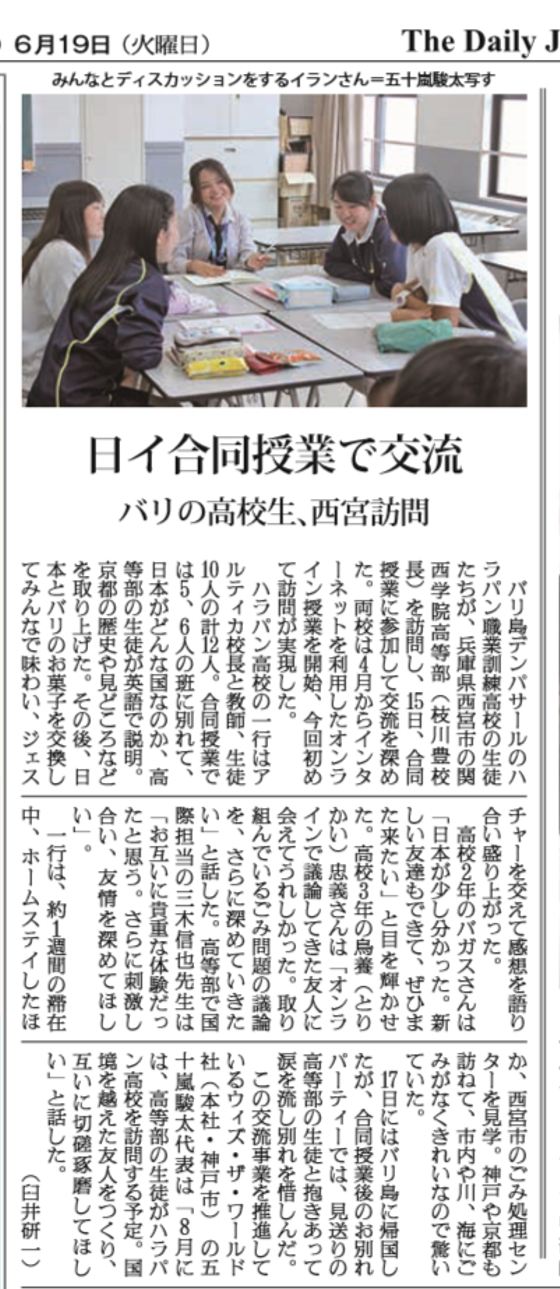 June 19, 2018
Topics
With The World Inc, The Daily Jakarta Shimbun, 19th June 2018. "Start Exchange program Bali Indonesia – Japan"
Article Contents
バリ島デンパサールのハラパン職業訓練高校の生徒たちが、兵庫県西宮市の関西学院高等部(枝川豊校長)を訪問し、 15 日、合同授業に参加して交流を深めた。両校は4月からインターネットを利用したオンライン授業を開始、今回初めて訪問が実現した。
ハラパン高校の一行はアルティカ校長と教師、生徒10人の計 12人。合同授業では5、6人の班に別れて、日本がどんな国なのか、高等部の生徒が英語で説明。 京都の歴史や見どころなどを取り上げた。その後、日本とバリのお菓子を交換してみんなで味わい、ジェスチャーを交えて感想を語り合い盛り上がった。
高校2年のバガスさんは 「日本が少し分かった。新しい友達もできて、ぜひまた来たい」と目を輝かせた。高校3年の鳥養(とり かい)忠義さんは「オンラインで議論してきた友人に会えてうれしかった。取り組んでいるごみ問題の議論を、さらに深めていきた い」と話した。高等部で国際担当の三木真也先生は 「お互いに貴重な体験だったと思う。さらに刺激し合い、友情を深めてほしい」。
一行は、約1週間の滞在中、ホームステイしたほか、西宮市のごみ処理センターを見学。神戸や京都も訪ねて、市内や川、海にごみがなくきれいなので驚いていた。
17 日にはバリ島に帰国したが、合同授業後のお別れパーティーでは、見送りの高等部の生徒と抱きあって 涙を流し別れを惜しんだ。
この交流事業を推進しているWIth The World 社(本社・神戸市)
の五十嵐駿太代表は「8月には、高等部の生徒がハラパン高校を訪問する予定。国境を越えた友人をつくり、 互いに切磋琢磨してほしい」と話した。 (臼井研一)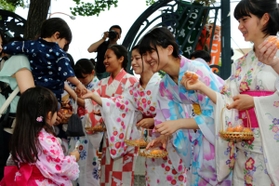 June 14 , 2018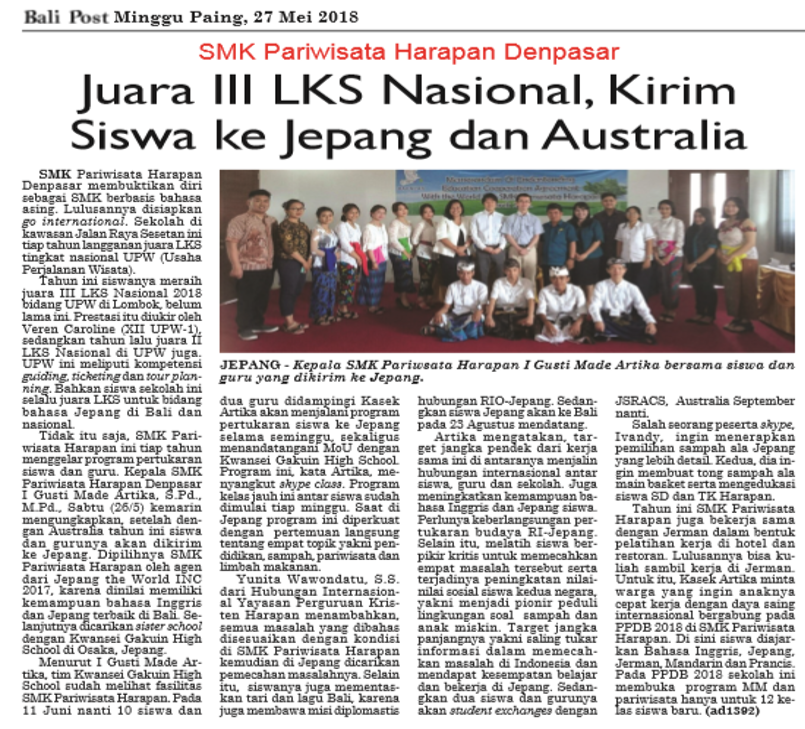 May 27, 2018
Topics
With The World Inc, The Bali Post, 27th May 2018. "Solve Social problem in a class , Contributes to produce global leader"
Article Contents
Harapan Tourism Vocational High School holds an exchange program for both teachers and students on yearly basis. A head master of Harapan Vocational High School, I Gusti Made Artika, S.Pd., M.Pd., Saturday (26/05), announced they are sending students and teachers to Japan as well. In association with the company, With The World Inc., Harapan Vocational Tourism High School has become sister school to Kwansei Gakuin Senior High School in Hyogo, Japan. Which moreover proving the point Harapan Vocational Tourism High School one of the best English and Japanese spoken school in Bali.
According to I Gusti Made Artika, Kwansei Gakuin Senior High School team will visit Harapan Vocational High School in upcoming August. And on 11th June, 10 students and 2 teachers accompanied by Principal Artika will participate to an exchange program to Japan for 1 week, as well as signing MoU with Kwansei Gakuin Senior High School. This program, Artika said, includes remote classes using Skype calls. Overseas sessions between students are held every week. And while they visit japan, they will participate and put their focus on working on social issues such as education, trash issues, tourism issues and food waste issue; by meeting directly and implementing ideas they have been discussing about.
Yunita Wawondatu, S.S. from International Relationship Department added: all problems that students have been discussing, are gradually adjusted to Harapan Vocational High School's condition and Japan side, and they are now working towards the solutions. In addition to the exchange program, the students will also be performing Balinese dance and songs, to bring more diplomatic mission to Indonesia and Japan while the students from Japan visits Bali on 25th of August.